James Puttock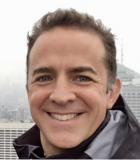 James Puttock is VP of Business Development for IYUNO Media Group.
He has spent more than 20 years specialising in media localisation and international distribution, working in creative, technical, and operational roles roles as both supplier and client. 
Previous experience includes 10 years at Sony Picture Entertainment where he oversaw European localisation, mastering and product fulfilment for all post theatrical markets, and 8 years as head of language services for London post production house, International Broadcast Facilities (IBF).