Alberto de la Puente Nieto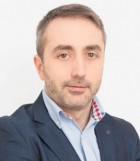 Alberto is Worlwide Localization Director at NBCU, where he is responsible for managing all aspects of foreign language dubbing and subtitling from inception to completion.  Alberto joined NBCU in 2010 and since he has lead changes to better integrate and optimize localization processes and resources across NBCU. He has also managed servicing of NBCU clients all the way form free, to basic, pay TV, local and global platforms.
Previously he worked at  Soundub, a dubbing Studio based in Spain, which allowed him to learn how a studio operates . His duties as Product and Account Manager cover a wide range of areas: attending to client's needs, managing budgets,  overseeing the production team,  taking cast decisions and enhancing production processes in order to reach delivery dates.
Alberto studied Media Studies and holds a  Master's Degree in Management of Media Enterprises from the University Carlos III