Sarah McDonagh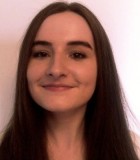 After completing my BA (French and English, 2010-2014) and MA (Translation, 2014-2015) at Queen's University Belfast, I was awarded funding by the Arts Humanities Research Council as part of the Northern Bridge cohort to undertake doctoral research in April 2017. My doctoral research is entitled '(Audio)-Describing the Maze/Long Kesh: The role of voice and word choice in audio description.' My research draws on the literature of translation studies, particularly audiovisual translation, heritage studies and hermeneutics to examine the reception of politically sensitive material, with the scope of my analysis expanding onto issues related to language and identity in the context of Northern Ireland. 
Taking the Prisons Memory Archive as my example, my research explores the ethics of description, reflecting on how to describe a contentious place, such as the Maze and Long Kesh prison, which has come to represent contrasting understandings of the past across communities in Northern Ireland. This research investigates the complexity of meaning associated with the prison site within a dynamic framework exploring and re-evaluating the notion of objectivity and subjectivity in audio description research.
My principal research interests are in audiovisual translation and media accessibility, particularly subjects related to accessibility in the arts, as well as, access facilities such as audio description, touch tours, British and Irish sign language interpreting, and captioning for the deaf and hard of hearing. I am also interested in heritage studeies as well as conflict resolution.  
I have worked as a research assistant on the Accessibility, Culture and Training (ACT) project, which is an EU-funded project in collaboration with various partners across the UK and leading institutions in Europe. I am currently wokring with the Prisons Memory Archive to develop their site footage of the Maze and Long Kesh prison and also the female prison at Armagh Gaol. My main role within the PMA is to design accessible content for people of varying sensory abilities, as well as address key ethical considerations in regards to heritage management and preservation.