Mónica Souto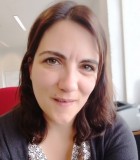 Mónica Souto is a PhD student in librarianship and informatics at the Carlos III University. She studies accessibility in audiovisual media form more than ten years.
She has worked on research projects in diferents field such as television, film and theater.
At this time, she has focused her research on the quality parameters that the subtitling service for the deaf impared should have, focusing on the speed of the subtitles.
She is currentluy part of the Carlos III team working on the Spanish Center of Subtitling and Audiodescription (CESyA) working on accesibility on television and culture.