Vladimir Stanic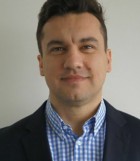 Vladimir Stanic a General Manager and Managing Partner in PBTEU, software development company who producing Subtitle NEXT and NEXT-TT platform. With more than 20 years in production, postproduction and broadcasting industry, with 10 years on managing positions inside PlayBox group, and 3 years as the Technical Director in PlayBox HQ. He graduates Telecommunications at Sofia University.  
During his carrier he had a great opportunity to speak and negotiate with different kind of organizations, and people from industry, in order to understand customer needs and problems. He worked on more than 50 international projects.
On the beginning of carrier, he worked as subtitle editor, video editor, designer, and later on as technology decision maker in content distribution company for localization.