Valeria Cervetti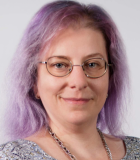 Born and raised in Tuscany, now living in Rome, Valeria Cervetti studied Classics and Classical Philology.
She started working in the audiovisual industry in 1999: first as a dialogues adapter, subtitler and translator then in movie and television pre-production, production and distribution areas.
She has translated, subtitled and adapted for dubbing over 350.000 minutes of different kind of audiovisual programs so far.
She is affiliated to AIDAC, ESIST and Subtle.
Since 2014 she has given a number of lessons, lectures and workshops in audiovisual translation, adaptation and subtitling for many Italian universities (Roma Tre, Tuscia Viterbo, Bologna Campus of Forlì, Udine) and for indipendent institutions (European School of Translation, Associazione Griò).
She teaches at the Master in Audiovisual Translation and Dialogues Adaptation for Dubbing and Subtitling (University of Tor Vergata, Rome).
In 2014 she established Terzarima Traduzioni with her colleague Arianna Farabollini.