Anthony Esteban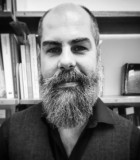 Anthony Esteban is a third year PhD. researcher at the University of Nottingham, in the UK, and a former translation manager for the science-fiction literature publishing company Black Library.
The focus of his research is on the specificities of the translation of science-fiction and fantasy genres on one hand, and the impact of dubbing in character perception by audiences in Imaginary Fiction films (the Star Wars franchise being his speciality) on the other.
The theoretical aspect of his work utilizes the concept of the Uncanny, Schema Theory, and Conceptual Metaphor Theory (CMT), whereas the practical side of his research focusses on the ways emerging technologies such as deep learning and AI can be used to better maintain character identity in audiovisual translation.