Shak Yousaf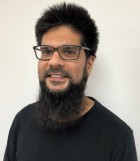 Shak Yousaf is the Audio Description (AD) Manager at SDI Media. After a couple of years as a freelance AD Script Writer and Voiceover, he joined SDI Media to expand their AD offering, in line with an increase in client demand and new regulations around the provision of Access Services.
Over the past five years, Shak has expanded SDI Media's capability to create Audio Description. He has overseen projects in six languages, has trained dozens of translators, voiceovers and staff and built a team of nearly twenty highly-skilled script and voice talents. Shak works with colleagues globally to help them coordinate their AD projects, from advice on pricing proposals and timelines to working directly with the talents and supervising recording sessions.
SDI Media has created Audio Description for cinema, home entertainment, TV, and online platforms.