Zoe Moores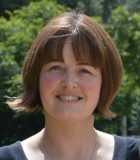 Zoe Moores studied French and Latin at Oxford before completing an MA in Linguistics at Manchester, where she focused on the bilingual mental lexicon. She taught in both England and Japan before retraining in 2013 to become a translator.
During the MA in Audiovisual Translation at Roehampton, Zoe was immediately drawn to media accessibility, an area where she was able to develop her passion for language and linguistics in a very practical way, alongside her interests in effective communication and equality for all.
Her work as an accessibility subtitler at Red Bee Media, Ericsson and research interest in respeaking during her MA led Zoe to begin a PhD at Roehampton in October 2015. She is researching how respeaking can be used at live events to increase accessibility both for the deaf and hard of hearing audience and for other audience groups who might benefit from this provision, for example language learners.
Zoe is part of the GALMA (Galician Observatory for Media Access) research group and is involved in a number of accessibility-related projects. She continues to translate and subtitle on a freelance basis.