Heike Elisabeth Jüngst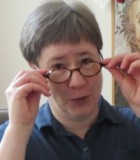 1985-1994: University of Mainz/Germersheim (Diplom-Übersetzerin, PhD)
2002-2008: University of Leipzig (Habilitation)
2008 -- Present: Professor and Director of Studies (Specialised Translation and Media Translation),  University of Applied Sciences, Würzburg-Schweinfurt
2010 -- 2018: Chair of Translation/Interpreting Section of the GAL (German Society of Applied Linguistics), with Univ.-Prof. Dr. Klaus Schubert
Member of the editorial boards of trans-kom.eu and Image[&]Narrative
Interpreter (simultaneous interpreting) at film festivals and for broadcasting stations
Chairperson of the Selection Committee for the German Children's Literature Award (DJLP), Section Translations (2017-2018)
Member of the FIT Task Force Audiovisual Translation (since 2018)
Important publications:
Audiovisuelles Übersetzen. Ein Lehr- und Arbeitsbuch. Tübingen: Narr, 2010.
Information Comics. Frankfurt am Main etc.: Lang, 2009.