Sonali Rai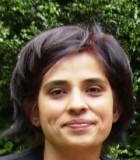 Sonali Rai is a broadcast professional with over ten years of experience in supporting the implementation of solutions on access to media content and reviewing end user experience. She leads the Broadcast and Media Innovation Team at the Royal National Institute of Blind People that works with stakeholders to drive policies, regulations and technical innovations on accessibility.
Sonali's recent development work has included:
- User assessment of synthetic speech for audio description and audio subtitles for TV content
- Exploring user experience of personalised solutions for receiving audio description.
- Helping deliver the 2018 UK Audio Description Awareness Drive on UK Television.
- Helping develop and adapt traditional audio description for different formats/ content including Reality TV, VR, TV Commercials and 360 degree content.
- Publishing a paper comparing the different audio description guidelines that are used by describers across the world.
- For World Blind Union: authoring toolkit on Audio Description and User Requirements for Digital Television for People with Sight Loss.
Sonali has a Master's Degree in Communication and Broadcast Media. She  started her career at CNBC - Business TV News Service and worked in the sector for eleven years during which she contributed to/ produced news magazine shows.