Nina Reviers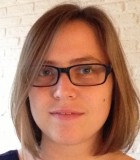 Nina Reviers is a practitioner and researcher in the domain of Audiovisual Translation, with a specific interest in Media Accessibility, including Audio Description for the blind and visually impaired and subtitling for the deaf-and-hard of hearing.
Nina obtained her degree in translation and interpreting for Dutch, English, French and Arabic as a third language at the Artesis University College in Antwerp in 2010. In 2018, she successfully defended a PhD in Translation Studies at the University of Antwerp, in which she studied language use and multimodal cohesion in a corpus of Dutch audio-described texts. Her research interests include AD for live events and performances, AD teaching, Linguistic aspects of AD, Multimodality and Corpus Studies. In addition, Nina Reviers gives workshops and lectures on Audio Description for film and theatre, subtitling, and has taught translation and interpreting students.
Nina also started working as a freelance subtitler and audio describer soon after graduating in 2010, specialising in the audio description of theatre and opera performances.
Currently, she works as coordinator for the newly founded Expertise Centre for Accessible Media and Culture OPEN of the University of Antwerp (OPEN – Expertisecentrum voor Toegankelijke Media en Cultuur in Dutch) and she is an Editorial Board Member of JAT, the Journal of Audiovisual Translation.