Kristijan Nikolic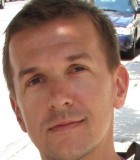 Dr Kristijan Nikolić took a university degree in English Language and Literature in the English Department of the Faculty of Humanities, Zagreb University in 1999. Between 2000 and 2009 he worked as a Lecturer in the same Department and since 2009 he has been working as a Senior Lecturer. In 2013 he was also appointed Research Associate in the English Department. He teaches various courses, including Cultures of the United Kingdom and the United States, Translation Workshop, and courses devoted to audiovisual translation, which is his main research and professional interest. Kristijan Nikolić has also been working as a freelance subtitler since 1998, mostly for Croatian Radio and Television (HRT), the Croatian public broadcaster, and SDI Media. nder the supervision of Professor Mary Snell-Hornby, in 2012 he defended his doctoral thesis entitled The Perception of Culture through Subtitles at the Centre for Translation Studies of the University of Vienna.
He was a Visiting Lecturer at the Centre for Translation Studies (CenTraS), University College London , in the academic year 2015/16 and in August 2016 he was appointed Honorary Research Associate at CenTraS. From 2017 he has been teaching Translation Technology, Audiovisual Translation and Localisation at Middlesex University, London.
Kristijan's publications are mainly focused on interlingual subtitling. In 2018 he published an edited volume Fast Forwarding with Audiovisual Translation with Jorge Diaz Cintas and a chapter on reception studies in interlingual subtitling in a volume edited by Elena Di Giovanni and Yves Gambier.
Kristijan Nikolić has been the member of the Executive Board of ESIST, European Association for Studies in Screen Translation, since 2008, and he is the founding president of the Croatian Association of Audiovisual Translators, DHAP. He lives and works in Zagreb and London.