Mara Campbell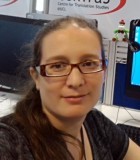 Mara Campbell is an ATA-certified translator (English-Spanish) and founding member of the recently created Audiovisual Division in the aforementioned Association. She has been subtitling, captioning, translating subtitles and scripts for dubbing for the past 20 years, working for several of the most important companies of Argentina and the USA.
Mara is currently COO of True Subtitles, the company she founded in 2005, that has clients in Argentina, Europe, and the USA. Her work has been seen on the screens of Netflix, Hulu, Amazon, HBO, Fox, BBC, the Discovery Networks, and many more, as well as countless DVD editions of movies and shows.
She teaches courses on subtitling, closed captioning, and Latin American Neutral Spanish and is compiling a book and glossary on this language variant.