Jan Ivarsson (Honorary Member)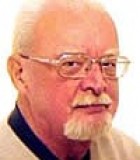 Jan Ivarsson studied Maths and Physics (with scant success), Literature, Scandinavian Languages and English at Uppsala University. There he also directed the Students' Theatre and later worked at the Municipal Theatre. He has been Lecturer of Swedish Language and Literature at the Christian-Albrecht University in Kiel (1960-63) and at the Sorbonne in Paris (1963-70), where he also taught at the École Supérieure d'Interprètes et de Traducteurs (1965-70). He staged plays and designed lighting in several Parisian theatres. From 1970 to 1978 he was Secretary-General of the Swedish Cultural Centre in Paris.
After returning to Sweden in 1978, he worked in Stockholm as a TV and film subtitler, mostly for Sveriges Television, where he later became programme buyer, specializing in drama. He also contributed largely to the creation of a new, computerized, time code-based subtitling system at the SVT, in collaboration with ScanTitling/Cavena. In 1995 he retired and moved to the seaside town of Simrishamn in southern Sweden, where he has continued as a free-lance translator and subtitler.
He has translated poetry, plays and numerous non-fiction books from French, German and English into Swedish and of course a great number of TV programmes.
In 1992 he published "Subtitling for the Media – A Handbook of an Art" and, together with Mary Carroll, "Subtitling" in 1998.
1992-96 he was a member of the Working Group on Language Transfer of the European Institute for the Media and in 1995 was one of the founding members of the ESIST (European Association for Studies in Screen Translation), of which he is at the moment vice-president. Since 1996 he is a member of the Advisory Committee of Languages & The Media.
He has lectured on different aspects of media translation at numerous conferences, among others: Nordic Translators' Conference on TV Subtitling in Copenhagen 1988; on Digital Subtitling in Istanbul (EIM) 1993 and in Strasbourg (FIT) 1995; on Technical Equipment in Subtitling Teaching in Berlin (L&M) 1996; on Tools and Resources for Subtitlers in Berlin (L&M) 1998, Oslo and Stockholm 1999, Guildford (UK) 2002 and Xalapa (Mexico) 2002; on the History of Subtitling in Europe in Hong Kong 2001.
He has taught subtitlers in Stockholm (SVT and Språkcentrum), Berlin (SFB), Riga (UNDP project) and in Xalapa.