Stavroula Sokoli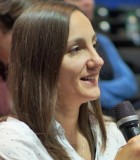 Stavroula Sokoli, PhD, is a researcher in Audiovisual Translation and Language Learning with more than 25 publications in these areas. She initiated and coordinated the EU-funded projects "Learning via Subtitling" (2006-2008) and "ClipFlair, Foreign Language Learning through Interactive Revoicing and Captioning of Clips" (2011-2014). She has collaborated in a number of national and EU-funded projects, including the Academic and Research Excellence Initiative in Greece as well as the projects "MOOCs  for University Students on the Move in Europe" (2015-2017) and "Trafilm, The Translation of Multilingual Films in Spain" (2015-2018).
She has taught Spanish at the Hellenic Open University since 2006 and subtitling at the Universitat Pompeu Fabra and the Universitat Autònoma de Barcelona since 2001.
As a subtitling practitioner she has translated numerous films, series and documentaries since 2001 and currently collaborates with Deluxe Localization as a Quality Assurance expert.