Minako O'Hagan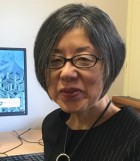 Dr. Minako O'Hagan is an Associate Professor in the School of Cultures, Languages and Linguistics at
the University of Auckland. Her technology-related research interests include translation technology,
game localisation, fan translation, translation crowdsourcing and Augmented Reality (AR). Her
current work explores ethical and ecological issues in view of the emerging AI applications in
translation as well as the growing presence of non-professional translation facilitated by dynamic
digital infrastructures.